Carbon Monoxide Safety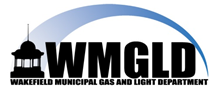 Wakefield Municipal Gas and Light Department
(Wakefield, MA) – Exposing an invisible killer: The Dangers of Carbon Monoxide. The U.S. Fire Administration (USFA) would like you to know that there are simple steps you can take to protect yourself from deadly carbon monoxide fumes.
Understanding the Risk
What is carbon monoxide?
CO, often called the "silent killer" is a gas you cannot see, taste, or smell. It can be created when fossil fuels, such as kerosene, gasoline, coal, natural gas, propane, methane or wood do not burn properly.
Where does carbon monoxide come from?
CO poisoning can result from faulty furnaces or other heating appliances, portable generators, water heaters, clothes dryers or cars left running in garages.
What are the symptoms of carbon monoxide poisoning?
Symptoms of CO poisoning include headache, nausea and drowsiness. Exposure to undetected high levels of carbon monoxide can be fatal.
CO Alarm Installation
Choose a CO alarm that has the label of a recognized testing laboratory. Install and maintain CO alarms inside your home to provide early warning of carbon monoxide.
CO alarms should be installed in a central location outside each separate sleeping area, on every level of the home, and in other locations where required by applicable laws, codes or standards. For the best protection, have CO alarms that are interconnected throughout the home. When one sounds, they all sound.
Contact Information
781-246-6363