THE FACTS ABOUT PROJECT 2015A
WHAT IS PROJECT 2015A?
Project 2015A is a nominal 60 megawatt, simple-cycle combustion turbine generator that will be used as a capacity resource. WMGLD will be entitled to approximately 9% of the Project's output and receive 9% of the capacity benefit from the Project. The remaining 91% of the Project's output and capacity benefits will be allocated to other participating municipal light plants throughout Massachusetts. The Project is situated on a portion of the Peabody Municipal Light Plant's (PMLP's) Waters River substation in accordance with agreements between the City of Peabody and the Massachusetts Municipal Wholesale Electric Company (MMWEC). The Project is owned and managed by MMWEC.
WHY IS IT CALLED PROJECT 2015A?
MMWEC's contractual requirements for energy facility projects is to name them initially as a "Special Project" according to the year in which it was first proposed/established and in the order proposed. A Special Project is the preliminary, development and exploratory phase of an energy facility. During 2015 and through 2016, under the name "Special Project 2015A," MMWEC undertook the necessary work to have sufficient information, contractual arrangements, and commitments to make the Special Project a "Project". A Special Project becomes a "Project" once Power Sales Agreements (PSA) are signed for the total capacity of the proposed energy facility.
PSAs were signed by the 14 participating municipal light plants (MLPs) including WMGLD in 2017. Consequently, as of January 2017, "Special Project 2015A" became "Project 2015A." In accordance with MMWEC's enabling act, the PSAs bind the MLPs to the costs and expenses associated with a Project whether it is completed, operates or is terminated. The PSA for this project is the same as all the other PSA's WMGLD has signed with MMWEC including Berkshire Wind, Hancock Wind, Eagle Creek Hydro, Solar Project 2020A, Stony Brook, Millstone and Seabrook.
WHAT IS MMWEC?
MMWEC is a body politic and corporate and a political subdivision of the Commonwealth created by the Massachusetts Legislature in 1975 to serve the consumer-owned, municipal light departments of Massachusetts. MMWEC is a voluntary membership organization whose Members are Massachusetts cities and towns having MLPs. Of the 40 MLPs in Massachusetts, 20 are Members of MMWEC. MMWEC provides services to all 40. Through membership in MMWEC, in addition to providing other Member services, Member systems are able to leverage their combined buying power to negotiate cost effective energy facility projects, helping to control costs in providing a reliable supply of power for all of our customers.
WHY THIS PROJECT?
It is important to understand that Project 2015A provides capacity – the ability to generate energy/electricity. By law, MLPs are required to secure capacity to meet the MLPs' peak demand, plus a reserve margin, typically an additional 40% of peak demand. This is done through the ISO-New England, the entity in charge of reliability for the New England region. All MLPs are required to participate in the ISO-New England electricity markets, one of which is the capacity market. Prices in the ISO-New England capacity market are volatile. Project 2015A locks in a price for capacity, protecting MLPs against this price volatility. Having this capacity reliability resource helps the MLPs stabilize rates and plan for the future. In addition, because renewables cannot be reliably dispatched at peak times, this project serves as a "balancing resource" for the increasing amount of intermittent renewable sources of energy, (such as solar and wind), on the grid.
WHAT FUEL WILL BE USED TO POWER THIS PROJECT?
The primary fuel source for the project will be natural gas, with ultra-low sulfur diesel used during the winter only when natural gas may become unavailable. Because it does not emit CO2, using green hydrogen as a fuel source as the technology develops, is actively being pursued by MWMEC and the Project's generator manufacturer.
HOW OFTEN WILL THE PROJECT RUN?
As a capacity resource, the Project is compensated (and through MMWEC the 14 participating MLPs are compensated) for its ability to "stand by" and be available during times of ISO- New England system stress when available generation is not able to satisfy electric demand. It is estimated that the Project will actually generate electricity for 239 hours per year or 2.73% of the time. There is a MA Department of Environmental Protection (MA DEP) permitted maximum annual operating limit of 1,250 hours per year, although it is not anticipated that the unit's run hours will approach this maximum limit.
WHAT DOES THE PROJECT DO FOR WAKEFIELD?
The Project will help to maintain electric reliability in the area, lower carbon and other emissions, and help us to contain future power costs, helping to keep our rates low, while simultaneously allowing WMGLD to obtain and participate in other renewable projects.
WHY IN PEABODY?
PMLP has experience in operating and maintaining generating units since 1891. Because of this, they have the facilities, infrastructure and personnel to safely and efficiently assist in the Project's operation and lower the overall cost of the Project. In addition, the Project's location in an import-constrained zone makes it especially valuable to ISO- New England and improves reliability in the region.
WILL THE PROJECT EFFECT AIR QUALITY?
The Project will utilize best available control technology including urea and a Selective Catalytic Reduction (SCR) system to minimize NOx emissions and will be amongst the cleanest and most modern generators of its type. Pre-commercial operation air modeling has been conducted in strict accordance with all MA DEP regulations. Actual emissions will be tested and monitored following commercial operation to ensure regulatory compliance. Additionally, the MA DEP has determined that Project 2015A is a Non-Major Source since the maximum potential emissions from the Project are well below the thresholds that would categorize the Project as a Major Source. When the capacity from the Project is available, PMLP will begin the process of retiring its oldest generator (installed in 1971) which will have a net effect of improved air quality.
NOx emissions and the project's ultra-high efficiency and heat rate for reducing greenhouse gas emissions result in a significant reduction in air emissions. A comparison of the emissions characteristics of the existing PMLP unit (Unit 1) that is being replaced and the new MMWEC unit associated with the project is as follows:
Emission Existing PMLP Unit* New MMWEC Unit**
Average NOx 6.6 lb/mwh 0.47 lb/mwh
Greenhouse Gas (ULSD***) 1582 lb/mwh 1112 lb/mwh
* 1971 P&W FT4
** 2022 Mitsubishi FT4000
***Ultra-Low Sulfur Diesel
NOx emissions on a per mwh basis will be 92.9% lower
Greenhouse Gas on a per mwh basis will be 29.7% lower
PMLP WILL START THE PROCESS OF SHUTTING DOWN UNIT 1 DURING THE SUMMER OF 2022.
ISO-New England rules require that, during specific time periods, PMLP seek approval from the ISO-New England to shut down Unit 1 in the first available time period during the summer of 2022. While the PMLP owns and operates Unit 1, PMLP does not control when and for how long Unit 1 operates. ISO-New England, the entity in charge of electric reliability for Massachusetts and all of New England, controls when Unit 1 operates and for how long.
Because ISO-New England relies on all generating units in the capacity market for New England-wide electric system reliability, the owner of a generating unit cannot simply shut a unit down. There is a specific process by which the owner of a generating unit must seek approval to remove the unit from the capacity market through what is known as a "delist" bid. The ISO-New England must evaluate a delist bid, taking into consideration a host of issues, particularly reliability of the New England electric system.
If the delist bid is granted, the unit would be removed from the capacity market three and a half years from that grant. That means that if the Unit 1 summer 2022 delist bid is cleared by ISO-New England, Unit 1 would be taken out of service in June, 2026. To the extent Project 2015A progresses as planned prior to 2026, PMLP will use the capacity from Project 2015A to replace the capacity from Unit 1 in the capacity markets. If the project were cancelled, Unit 1 could not and would not be delisted.
What are the Benefits of Delisting Unit 1?
In addition to less CO2 emissions, the biggest health benefit of taking Unit 1 out of service is lowering NOx emissions in and around area as shown above.
What Will happen between Now and 2026 with Unit 1?
Because of its age and technology, when Unit 1 runs on oil during the winter, it emits relatively high NOx emissions. In order to capture essentially the same benefits of delisting Unit 1 between now and 2026, not running Unit 1 during the winter months on oil will result in the same reduction in NOx emissions. Such a NOx reduction will benefit Peabody and the surrounding communities.
Commencing in November 2022 and from then through 2026, PMLP will submit bids not to run Unit 1 on oil, except as required for testing in adherence to MA DEP and ISO-New England regulations. This approach will be used until the time period Unit 1 is shut down.
Thus, this voluntary interim action commencing in the winter of 2022 as well as the shutdown of Unit 1 will have a dramatic and significant improvement on health impacts in designated environmental justice areas in and around the project.
DOESN'T THE PROJECT CONFLICT WITH THE STATE'S DECARBONIZATION ROADMAP OF NET-ZERO BY 2050?
No. While all the renewable projects coming online or in development are a welcome opportunity, the "Massachusetts 2050 Decarbonization Roadmap" cites that thermal generators will be needed for decades as a "gap-filling" tool in helping the Massachusetts electric grid maintain a high level of reliability. The Roadmap states: "Forcing the retirement of all thermal capacity in the electricity system, rather than capping or managing emissions and operational profiles as part of new reliability service markets, represents an unnecessary operational risk to the regional energy system that is likely to ultimately result in higher costs for consumers and higher environmental impact."
WHAT WOULD HAPPEN IF THE PROJECT WERE TO BE CANCELLED?
MMWEC has issued approximately $62 million in bonds to finance the Project. Also, WMGLD has contributed $2 Million in cash towards the Project's estimated total cost to date. WMGLD's share of repaying the MMWEC bonds over their 30-year life is $7.5 million. In addition, the contract with the General Contractor to construct the Project has certain termination provisions.
IS WMGLD GOING TO MEET ITS RENEWABLE TARGETS?
The State's 2050 Decarbonization Roadmap requires that electric utilities achieve 50% carbon-free energy by 2030, 75% by 2040, and 100% by 2050. For years WMGLD, utilizing MMWEC's leverage, has been adding carbon-free energy resources into our portfolio and our energy supply is currently 51% carbon free. While we are committed to meeting the State requirements at minimum, we strive to achieve our targets as soon as possible as opportunities become available to do so in a cost-effective manner for our customers.
WHERE CAN I GET MORE INFORMATION?
More information can be found at: https://www.project2015a.org/ or contact the Wakefield Municipal Gas and Light Department


Project 2015A Public Meeting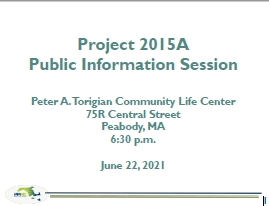 ---
This page provides several links to information regarding Project 2015A and the Public Information Session.
For the slide presentation in English, CLICK HERE.
For the slide presentation in Spanish, CLICK HERE
To watch the video presentation of the June 22, 2021 public meeting, CLICK HERE.
To view the information provided by MMWEC regarding Project 2015A, CLICK HERE.
To read the Wakefield Item article about the public meeting, CLICK HERE.
If you would like more information about the project, please contact General Manager, Peter D. Dion at pdion@wmlgd.com.