Energy Tips
Want to learn more about our energy future?
Click here to go to the Energy Empowers webpage.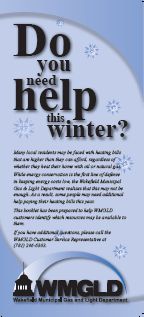 (Click image to download brochure.)
Save energy this Winter:
Replace incandescent light bulbs with ENERGY STAR compact fluorescent light bulbs, especially in high-use light fixtures. Compact fluorescent lights use 75 percent less energy than incandescent lights.
When buying new appliances, choose ENERGY STAR-certified models. A new ENERGY STAR refrigerator uses about 20 percent less energy than a standard new refrigerator, and 46 percent less than one made in 1980. A new Energy Star® clothes washer uses nearly 50 percent less energy than a standard washer.
Install a programmable thermostat. Setback thermostats can save up to 15 percent on energy costs.
Increase ceiling insulation. If your ceiling is not insulated or needs more insulation, you can reduce heating costs by 5-25 percent by increasing your insulation to up to R-38.
Set your thermostat as low as is comfortable in the winter. For every degree you lower the thermostat, you can save 3% on your heating bill. You should also turn down your thermostat 5 to 10 degrees at bedtime.
Clean or change your furnace filter monthly so that your furnace doesn't have to work as hard.
Remove furniture or items that block heating vents.
Make the most of natural sunlight in the winter by opening window coverings on south-facing windows to warm your home.
Weather-strip doors and windows that do not seal tightly. Use foam gaskets around electrical outlets (under the plates) to reduce drafts.
Activate your computer's power management features, so it powers down when sitting idle.
Close the door and isolate unused rooms in your home to reduce the overall space you heat.
Save energy this Fall:
Fall is the best time to clean the chimney and have your vent systems checked. Pipes must be properly connected and there should be no signs of rust or damage.
If you have single-pane windows, add storm windows to cut heat loss by up to 50%. Fall is the best time to remove the window air conditioners for the winter. If they must stay in place, be sure to seal them with caulking or tape and cover them with an airtight, insulated jacket.
Vacuuming and wiping clean light bulbs and lighting fixtures can also help save energy. Dust and kitchen grease can build up and reduce the bulbs' brightness, requiring you to turn on more fixtures to get the light you need.
Consider installing motion sensors on porch lights. This saves energy because lights will automatically turn on and off.
Check for cracks and gaps between door and window frames, around your dryer vent, and where cable and phone lines enter your home. Most air leaks can be easily sealed with caulk or weather stripping.
Now is the time to clean and repair your fireplace. Make sure that the damper is tightly sealed when the fireplace is not in use. A small space would let the cold air rush in and send the warm air out.
Check furnace air filters monthly and change or clean periodically. A clean filter saves 5% on heating costs.
Use a laptop computer; they use 90% less energy than desktop computers.
Summer Energy Tips
Air conditioning in homes and businesses, whole house and attic fans, and window fans can lessen the uncomfortableness caused by soaring temperatures and high humidity.
Unfortunately, electricity is required to operate each of these appliances. As a result, electric consumption soars during hot weather, especially during heat waves and extended periods of uncomfortably high temperatures. This is the time when most utilities, like the WMGLD, reach peak levels of electric usage.
The WMGLD reminds customers to conserve energy and to use air conditioners and fans wisely this summer.
during the evening hours, turn off the air conditioner and open the windows if there is a cool breeze;
shut the drapes or blinds during the hottest time of the day or when you're leaving for work in the morning;
turn off the air conditioner and any fans before you leave the house, even if you're going out for a few minutes. It only takes a few minutes to get the house to a comfortable temperature after turning the air conditioner on;
dress in cool, light, loose-fitting clothing;
drink plenty of liquids, frequently;

and remember that pool filters use electricity, too.
Summer safety…
If you know of any elderly residents who do not have air conditioning in their homes, please check on them periodically during heat waves.
Suggest that they spend as much time as possible in cool surroundings; for example, shopping malls, the senior center, libraries and movie theaters. Heat stress can occur quite rapidly under extreme heat.
The elderly are more vulnerable to heat stress than younger people because they do not adjust as well to heat and they perspire less. They are also more likely to have health problems which require medicines which work against the body's natural defenses to adjust to heat.
The following symptoms can signal heat stress:
- dizziness
- rapid heartbeat
- diarrhea
- nausea
- cramps
- throbbing headache
- dry skin (no sweating)
- chest pain
- great weakness
- mental changes, confusion
- breathing problems
- vomiting
It is important to seek medical attention if you, or anyone you know, experiences any of these symptoms, since they also can signal other major problems, such as heart failure.
To learn more about how to save energy this summer, see our "Save Money This Summer" brochure.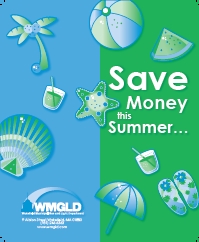 ---
Spring Energy Tips:
Turn your water heater down to 120 degrees Fahrenheit to save money on your electric bill. This is also a safety measure, especially if you have children in the house.
When you're doing your spring cleaning, make sure all the fans are working properly and are dust-free. During the warm months, switch the direction and draw air upward, cooling the room and ensuring constant airflow.
Regularly wash or replace furnace and air conditioner filters.
If you have a sliding glass door make sure to keep its track clean. A dirty track can ruin the door's seal and create gaps where heat or cold air can escape.
Pets shed during the spring - when dust and pet hair build up on your refrigerator condenser coils, the motor works harder and uses more electricity. As part of your spring-cleaning routine, make sure the coils are cleaned so that air can circulate freely.
Turn off your thermostat, take off your storm windows, put in screens and open up the windows to get your house to a comfortable temperature.
Use natural lighting as much as possible. If you have lights on a timer, this is a good time to check them and make sure they are only on when needed.
Most people close their windows at night and open them up in the morning when they see it's a nice day. You should do the opposite -- your home heats up during the day so you should open your windows at night when the temperature drops, then close the windows in the morning to keep the cool air in and the hot air out.
Some energy improvements that you make this year may qualify for a tax credit on next year's taxes.
Dust or wipe light bulbs. Clean bulbs provide more light.
---
You can cut your energy costs when you make small changes…
Many people still believe that electronic equipment; (i.e.: computers) last longer if you never turn them off. This is a misconception that is carried over from the days of older mainframe computers.
Many appliances continue to draw a small amount of power when they are switched off. These "phantom" loads occur in most appliances that use electricity, such as stereos, DVD/VCRs, televisions, computers, and kitchen appliances.
75% of the electricity used to power home electronics in the average home is consumed while the products are turned off. You can save energy by unplugging the appliance or using a power strip to turn the power on and off.
An ENERGY STAR qualified computer uses 70% less electricity than computers without enabled power management features. If your computer is old, buying a new one could save you energy.
Replace incandescent bulbs with compact florescent light bulbs. They can pay for themselves in a little over a year.
Long Term Energy Improvements
When buying new appliances, check the energy rating. Always buy an Energy Star rated appliance. You may qualify for a WMGLD rebate.
Install thermal or storm windows or double-paned windows. A less-expensive alternative is plastic sheeting that can be temporarily fastened over doors and windows to prevent drafts and retain heat.
Conduct a home energy audit on your own. You can access the US Department of Energy at www.homeenergysaver.lbl.gov for a do-it-yourself home energy audit feature.
See if you qualify for an audit conducted as part of the WMGLD incentive and rebate program administered through the Massachusetts Municipal Wholesale Electric Company's (MMWEC), Home Energy Loss Prevention Service (HELPS) program. Customers may ask questions through the energy hotline at 888-333-7525 or 888-335-7203, or via the Internet at www.munihelps.org.
Check to see if the attic and basement have the recommended levels of insulation.
General Safety Tips
Never leave a light socket empty. If you can't replace a burned out bulb right away, leave it in the socket until you can.
Use plastic safety plugs in outlets that are seldom used.
Fans and electric heaters should be placed out of a child's reach.
Always unplug an appliance by the plug, not by pulling the cord.
Never replace a blown fuse with a copper penny or wrap one in aluminum foil.
Keep power tools in a dry place. Dampness can increase the possibility of shocks.
If your lights dim and motor on appliances sometimes slow down, your home may not be adequately wired.
All outdoor outlets should have ground fault interrupters.
Electric power tools should not be used in the rain, or on wet surfaces, near a sprinkler or pool.
Stay away from areas marked Danger: High Voltage!
Never place electrical cords under carpets.
Never climb a tree near electrical lines.