The Incentive Rebate Program
---
The WMGLD Incentive Rebate Program for energy efficient improvements is performed in cooperation with the Massachusetts Municipal Wholesale Electric Company (MMWEC) Home Energy Loss Prevention Service (HELPS) program.
Please note, a "pre" and "post" audit must be completed before an incentive rebate will be issued.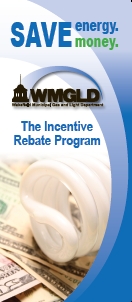 WMGLD's Energy Star Rebate Program
---
WMGLD offers rebates to residential customers who purchase qualified ENERGY STAR rated refrigerators, washing machines, dishwashers, room air conditioners, central air conditioners, dehumidifiers, and programmable thermostats, as well as energy efficient water heaters with a energy factor above .61. For more information, please call (781) 246-6363, or see our Residential Appliance Rebate Program brochure or simply fill out our Residential Appliance Rebate form.